Equipment name: Square steel quenching and tempering production line
Workpiece material: Carbon steel alloy steel
Workpiece size: 20 x20 ゛160 x160 mm
Workpiece length: 2-20m
Power range: 1 6 0- 1 000KW
Closed loop temperature control: Controlled by the American Leitai two-color thermometer Temperature
control system: PLC man-machine interface full-automatic intelligent control
Square steel quenched and tempered , specifications may process the steel 20x20 - 160x160 mm. There are five sets of coils in the whole line, which are controlled by five completely independently adjustable frequency conversion modules. The last group of each zone is used as a holding zone to obtain a better austenitizing effect. The grinding rod cooling system is water-cooled and consists of 5 quenching water rings and a linear cutting nozzle. The entire process of quenching and tempering of the grinding rod is continuously transported by a continuous inclined roller table. The grinding rod advances in a self-rotating manner, which can ensure the uniformity of heating and cooling of the grinding rod and obtain better flatness.
1. The composition of the square steel quenching and tempering production line :
1. Feeding mechanism and discharging mechanism
2. Conveying roller table (the workpiece is being fed at a constant speed while rotating, and the operation is stable, the speed is adjustable, and the heating is more uniform)
3. Quenching induction heating furnace system
4. Quenching spray system
5. Tempering induction heating furnace system
6. The PLC main console (including frequency conversion and temperature control, Huayan industrial computer, remote start, etc.) is to directly operate the entire quenching and tempering equipment on the central console, and only one person can operate the steel pipe The quenching and tempering production line saves labor and costs.
7. Power range of quenching induction heating furnace : KGPS/IGBT 160-1300KW
8. Power range of tempering induction heating furnace : KGPS/IGBT 160-750KW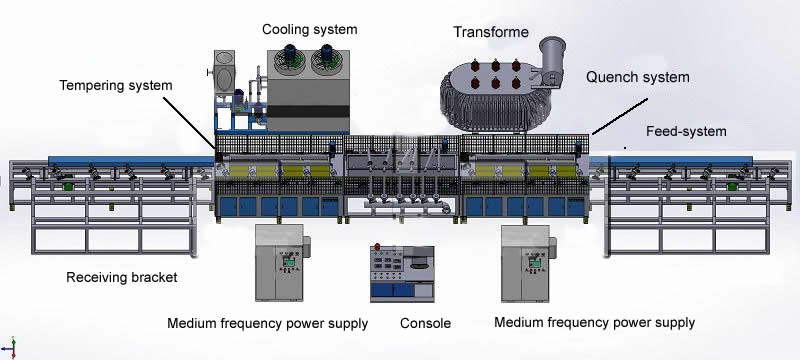 2. Description of control system for square steel quenching and tempering production line :
The main console adopts German Siemens PLC and Taiwan Huayan industrial control system as the core control part, which automatically matches and adjusts the mechanical operating parameters, quenching and tempering parameters, power supply, etc. of the entire system , and displays, stores and stores various parameters. Printing and other functions.
1. Recipe management function:
Powerful formula management system, after inputting the steel grade, pipe diameter and wall thickness parameters to be produced, the relevant parameters are automatically called, and there is no need to manually record, consult, and input the parameter values required by various workpieces.
2. History curve function:
The PLC master console displays traceable process history curves (standard configuration in industrial computer systems), with a recording accuracy of 0.1 second, vividly and accurately reproducing the processing temperature trend graph of a single product. Up to 1T capacity storage space, permanent preservation of all product process records for decades.
3. Historical records:
The traceable process data table can take out multiple sets of sampling points on each product, and accurately reproduce the processing temperature value of each section of a single product. In the touch screen system, there is no storage space limitation at all, and all product process records for decades are permanently stored.
Third, the basic configuration of the square steel quenching and tempering production line
Serial number

content

quantity

Remark

1

S11-630kvA power transformer

1 set

2

Thyristor intermediate frequency power supply KGPS- 5 0 0/1

1 set

3

Quenching transformer

1 set

3

Quenching induction heater

Including water-cooled rails

3 .1

GTR 18

1 set

3.2

GTR 25

1 set

3.3

GTR 29

1 set

3.4

GTR 36

1 set

4

Tempering induction heater

Including water-cooled rails

4 .1

GTR 18

1 set

4.2

GTR 25

1 set

4.3

GTR 29

1 set

4.4

GTR 36

1 set

5

Quenching induction heater bed

1 set

6

Back to fire induction heater bed

1 set

14

Loading end bed

1 set

8

Cutting end bed

9

Feeding mechanism

10

Feeding mechanism

11

Transmission roller mechanism

12

Pressure roller feeding device

1 set

13

Quenching water spray device

14

Electrical control core

1 set

14 . 1

Configuration Software

(MCGS system)

1 set

14 . 2

A programmable controller (the SIEMENS the SIMATIC S 14 - . 3 00)

1 set

14 . 3

LCD screen

1 set

14 . 4

Dual Colorimetric Infrared Thermometer ( USA Leitai)

1 set

14 . 5

Photoelectric switch

4 sets

14 . 6

Control cabinet (including variable frequency drive equipment)

1 set

14 . 7

Console

1 set

15

Cooling water system ( ZXZ - 60T ) part

1 set

Water pipe ppr

The water cooling tower is within 10 meters of the power cabinet

16

IF power inlet copper bar

1 set

17

Electrical and waterway installation and commissioning

1 set

18

freight

1 set