Guideway quenching integrated machine tool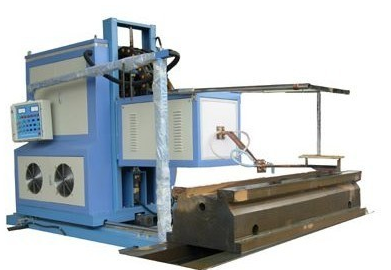 1. Brief description: Surface quenching heat treatment equipment of machine tool guide rail table
2. Outstanding features of integrated guide rail quenching machine tool:
1. The quenching equipment moves by itself, and the bed-workpiece does not move.
2. Small footprint, short stroke distance, only half of the moving distance of the bed.
3. High production efficiency, fast quenching speed, uniform hardware, moderate hardened layer and small deformation.
4. Flexible movement, convenient operation and high precision.
3. Selection method of main technical parameters of guideway quenching integrated machine tool:
Model: CNC rail quenching integrated machine tool
Input power: 120KW/160KW
Input voltage: three-phase 380V 50-60HZ
Oscillation frequency: 20-35KHZ
Longitudinal stroke: 6m, 8m, 10m, 12m (adjustable speed)
Lateral stroke: 800mm
Lifting stroke: 600mm (adjustable speed)