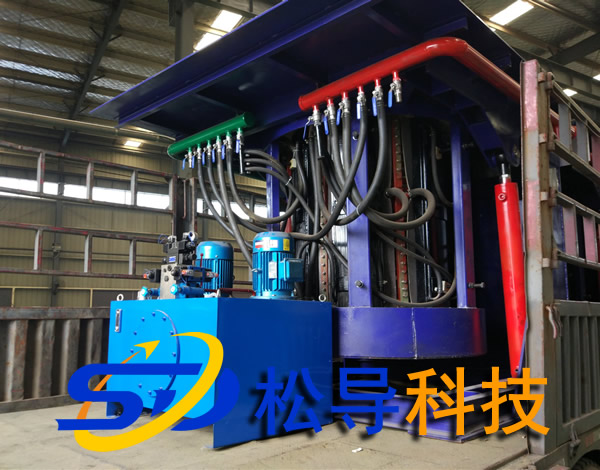 1-ton intermediate frequency furnace
KGPS intermediate frequency power source or 12 pulse frequency power source supplied with two 1-ton intermediate frequency induction heating furnace for steel melting .
Model GWT-1/750

Index(6 pulse)

Index(12 pulse)

技术指标(12脉)

Rated power

750KW

750KW

750KW

Phase voltage

3*660V

3*660V

6*660V

Rated voltage

2800V

2800V

2800V

Rated capacity

1T

1T

1T

Rated temperature

1600℃

1600℃

1600℃

Power specifications

KGPS-1/750

KGPS-1/750

KGPS-1/750

Single set price

Complete configuration:

Fast 12 pulse intermediate frequency power source

A set

Compensation capacitor

A set

Intermediate frequency furnace

Two

Reducer

Two

Water cooled cables

Two

Crucible film

One

Instructions for use

One

Warranty period

1 year
1)6 phase 12 pulse intermediate frequency power source control system can eliminate 5, 7high-order harmonic,and significantly reduces the power grid harmonic interference。
2)Closed circuit cooling tower is used to improve the effect of the cooling system and equipment service life,without building the pool.
Water cooler: (optional)
Builting pools in the production site to cool water through the pump cycles on the devices, or choosing the package combination of cooling equipment. Furnace and power source respectively adopt a set of fully closed cooling device ( or a set together ). Using two sets of cooling device in order to avoid interaction. Water collecting tray under the cooling tower, built-in spray water, is equipped with a float ball valve in its inlet, can automatically control the water level of a water collecting tray, and its outlet also has a spray pump. The intermediate frequency power source need low temperature cooling water, outlet water temperature should be controlled at 55 ° C or less, the electric induction coil cooling water temperature is slightly higher, so it can improve the heat efficiency of the furnace, while reducing the volume of cooling device, and reduce the cost. Core of the fully closed cooling device is spray evaporative closed cooling tower. There are a lot of radiating coil in the cooling tower, circulating water flow in the coil, so it is isolated from the air. The upper part is provided with a water outlet of cooling tower and cooling fan. When working, the spray pumps water to the upper part of the spout, the water mist spray onto the surface of the coil, at the same time, cooling fan exhausting to vaporize spray water, carry off circulating water heat inside the coil.The advanced method of cooling device has high heat exchange efficiency. FSS-200 closed circulating cooling tower is recommended, which can save large production sites.
Introduction
1. Power source adopts a parallel resonant circuit, the control circuit is fully integrated, intermediate frequency power source zero voltage soft start. Convenient operation and maintenance, stable,reliable, low repair cost.
2. Intermediate–frequency power source has many function, including overvoltage, overcurrent, lack-phase, under-voltage, lack of water, cooling water temperature overrun alarm protection ,it's safe and reliable.
3. Melting fast and high production efficiency when Stable power and stable operation.
4. Three-phase full-bridge rectifier, small hign-order harmonics, without interference on power grid, the transformer does not heat and low loss.
5. When power source works, electric and water is saved. Small volume, light weight, safty, wide used ,.
Heating characteristics
1. Intermediate frequency furnace smelting process is stable, the castings have high mechanical strength
2. Oxidation loss, no oxidation melting, reduction of the melting loss
3. Liquid iron have electromagnetic stirring itself and homogeneous metal components, can smelt any chip and small scrap, reducing cost
4. Reduce environmental pollution
5. High power density, fast melting, start melting conveniently
6. Flexible and convenient operation, selected frequency
7. Low construction costs
8. Superb coil design, high quality thick-walled copper tubes , Rational selection of induction loop interturn distance makes the highest conversion efficiency of induction coil ,resistance minimum,so more energy can be used for melting, heating, high strength, coils are prone to damage due to arc and expansive fo rce.